Drawer T handle Diameter

10 12

mm Stainless Steel Kitchen Door Cabinet T Bar Handle Pull Knob Furniture Handle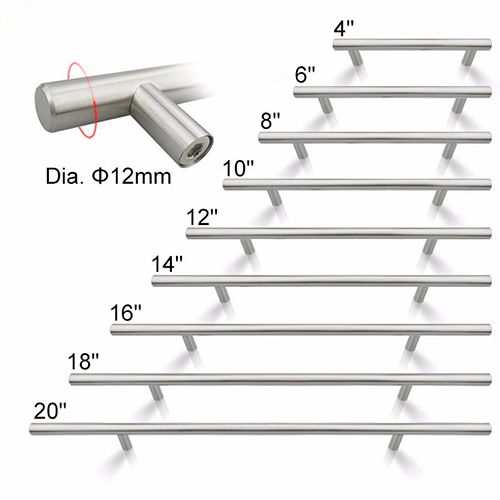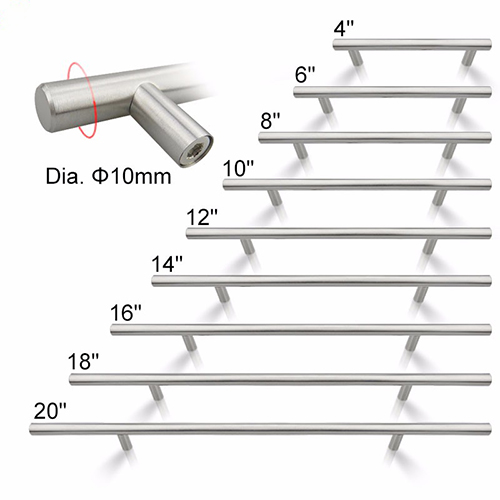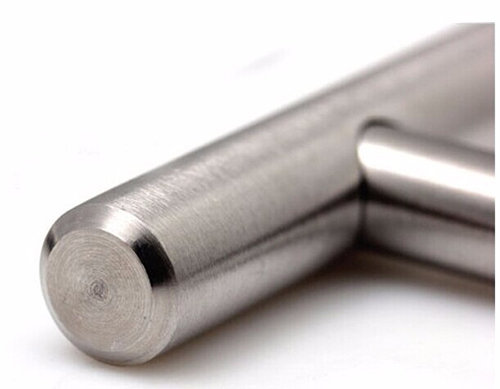 Quotation List of T10mm Stainless Steel Handle

Item No

.

D*L*H

(

mm

)

Description

C.C


(

mm

)

Carton Size


(

cm

)

PCS/

Carton

G.W/Carton


(

kg

)

MOQ


(

PCS

)

Unit Price


(

USD

)

T10064

(4

"

)
10*100*32

Material

:
201#

Stainless Steel




Hollow Tube

64
44.5*34.5*21.5
400
12
400

US$0.31

1200

US$0.27

4000

US$0.25

T10096

(6

"

)
10*150*32

Material

:
201#

Stainless Steel




Hollow Tube

96
44.5*34.5*21.5
400
14.2
400

US$0.36

1200

US$0.32

4000

US$0.30

T10128

(8

"

)
10*200*32

Material

:
201#

Stainless Steel




Hollow Tube

128
44.5*35*26
400
16.5
400

US$0.41

1200

US$0.36

4000

US$0.34

T10160

(10

"

)
10*250*32

Material

:
201#

Stainless Steel




Hollow Tube

160
54*28.5*30
300
14.6
300

US$0.46

900

US$0.41

3000

US$0.38

T10192

(12

"

)
10*300*32

Material

:
201#

Stainless Steel




Hollow Tube

190
67.5*32.5*18.5
300
16.3
300

US$0.52

900

US$0.46

3000

US$0.43

T10224

(14

"

)
10*350*32

Material

:
201#

Stainless Steel




Hollow Tube

224
55*37.5*27
300
18
300

US$0.56

900

US$0.50

3000

US$0.46

T10256

(16

"

)
10*400*32

Material

:
201#

Stainless Steel




Hollow Tube

256
44.5*34*26
200
13.7
200

US$0.61

600

US$0.54

2000

US$0.51

T10288

(18

"

)
10*450*32

Material

:
201#

Stainless Steel




Hollow Tube

288
52.5*50.5*19.5
200
14.8
200

US$0.67

600

US$0.59

2000

US$0.55

T10320

(20

"

)
10*500*32

Material

:
201#

Stainless Steel




Hollow Tube

320
56*52*30
200
16
200

US$0.72

600

US$0.63

2000

US$0.59
FAQ
1. What's the payment term of your factory?
We accept T/T, Western Union,Money gram Ect.
2. Can you arrange sample for us to check your quality?
Yes, It is our pleasure.
Please inform us your contact information, we will send you sameple within 3 days.
3. What's your warranty policy?
For all products. We have one year warranty. All of our goods are 100% tested working and perfect before sent to you in case there unexpected damages during delivery, please do check before you sign the package.
4. What's yourminimumorder quantity?
Our MOQ is not the same based on different locks, small orders are welcome, but the unit price is all different from wholesale price.
5. What's package do you use for the products?
Usually we have professional retail package for the products. Customized package are also available based on certain MOQ.
6. Can I print my own brand logo on your product?
A4: OEM orders are highly welcome. Please write us the details of your logo color, logo position; user manual and box design (if you have) before you send us inquiry. In this way we can offer you most accurate answer at the first time.
7.Where is your factory located? How can I visit there?
A: Our factory is located in Wenzhou City, Zhejiang Province, China.