How to Clean Kitchen Cabinet Knobs
Kitchen cabinet knobs can accumulate a lot of built-up grime over time. Each time you open a cabinet door or drawer, you transfer dirt and oils from your fingers onto the knob. Over time, these oils and impurities can rob the knobs of their luster, while allowing tarnish and discoloration to take hold. Clean your cabinet knobs on a regular basis to keep them looking their best.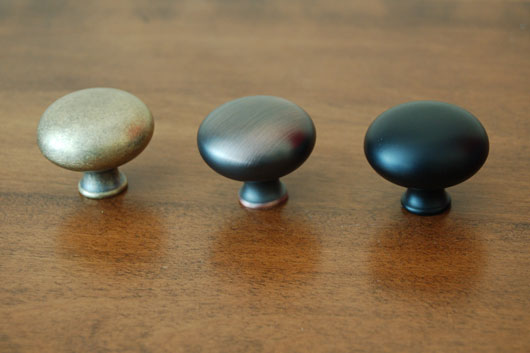 Steps
Remove the knobs from the cabinets with a screwdriver. Many cleaning detergents and hard scrubbing can damage the wood of the cabinets. The backs of the knobs can also be an area where grime builds up; removing the knobs allows you to clean all of these areas.

Hold the knob tightly in one hand while turning the screwdriver counterclockwise in the screw on the back of the door.

Remove the screws from the backs of the doors and set them aside for later.

Fill a bowl with enough warm soapy water to fully submerge all the knobs.

Soak the knobs in the soapy water for approximately 30 minutes to begin loosening the grime.

Scrub the knobs. Use an old soft-bristled toothbrush to scrub metal, porcelain and glass knobs. Use a soft cloth to rub wooden knobs.

Work the toothbrush or cloth over the knobs, paying attention to any carvings or grooves, removing the build up, grease and dirt.

Allow wooden, glass and porcelain knobs to dry completely.

Apply metal polish to metal knobs to help remove any tarnish and bring back the shine of the knobs. Use a soft cloth to rub the polish into the knobs until they have the desired finish.

Apply a thin coat of beeswax to metal knobs to help protect their finish, prevent new tarnish build up and keep them looking clean longer.

Screw the knobs back onto the cabinet doors. Done!
PS: This article is from network.
Related Items